About Lucy's Waffles & Ice Cream:
Located at the northeast corner of Rainbow Boulevard and Patrick Lane in Las Vegas, NV Lucy's Waffles & Ice Cream creates a fun atmosphere for family and friends to gather and enjoy unique desserts. Taking old-fashioned ice cream to a whole new level, as Lucy's adds it to a fluffy Belgian waffle with a crispy outside. Their waffle batter is made fresh daily from a secret family recipe that's been handed down and perfected over the generations. Guests can expect "breakfast for dessert" combinations including waffles, fruity pebbles, sprinkles, and Nutella. http://www.lasvegaswafflesandicecream.com/
Digital Wall System:
On October 26, 2018, the service technicians at Zem Media installed a 6 screen Digital Wall system which transformed the empty space behind the counters at Lucy's Waffles and Ice Cream. The new "Digital Wall" is capturing visitors attention with upgraded menu boards and marketing screens.
Please visit our friends and taste one of their delicious waffle & ice cream recipes and take a peek at their new menu boards which include stunning visuals and moving avatars!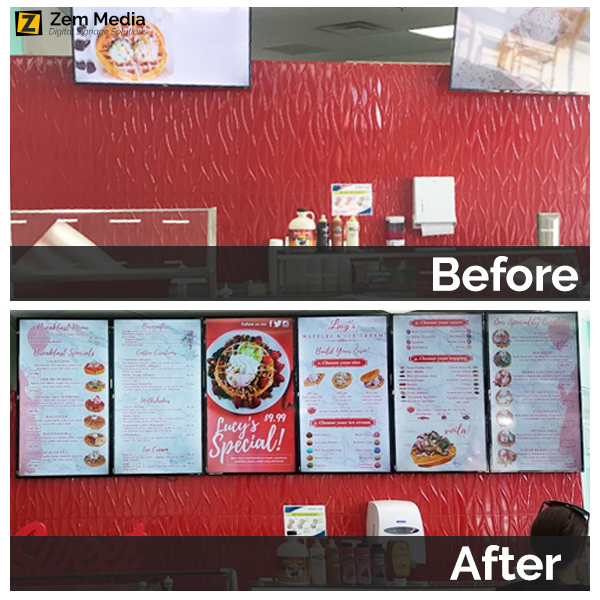 Credits:
About LW by https://www.groupon.com/biz/spring-valley/lucys-waffles-and-ice-cream